Corsica
---
I took these photographs during the month of August 1994. I then had them developed on a Photo CD, and retouched them very slightly to eliminate some artifacts (mainly dust fallen on the film during scanning).
Clicking on a small photo will download a bigger version.
---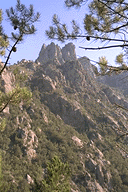 This rock is called Christe Eleison. It looms over the valley of Fium' Orbu, near Ghisoni.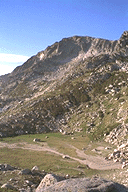 One of the Bastan lakes - this one is dry - just below the Monte Renoso (2352m).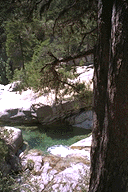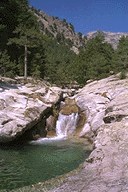 A cold stream of water (Manganellu, in Vivario's forest) under a boiling sun. Bathing in there is... cool.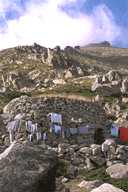 A shepherd's hut at Muraccioli, on the slopes of Petra Niella. A family lives here. The nearest road is 3 good hours away.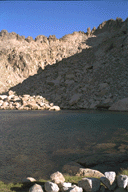 The Lavu Bellebone (2440m), surrounded by Monte Rotundo's circular summit (2622m).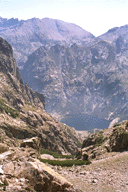 The lake of Melo (1711m), at the end of the renowned Restonica valley. Here it is seen from the Brèche de Goria, a pass in the rocky crest that looms over the lake.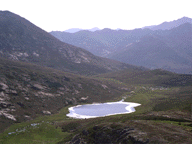 The lake of Nino, seen from a small nearby summit, the Capu a u Tozzu.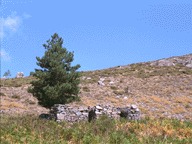 A ruined shepherd's hut near the Bocca d'Astenica, one of Corsica's most remote places: no roads, no paths, no water. In this area crawling is sometimes necessary to avoid the thorny bushes. Not easy with a backpack!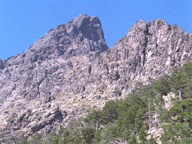 The Paglia Orba, Corsica's most impressive peak in my opinion. It's made of a unique red rock found nowhere else on the island. From its summit one sees a good half of the island. You almost feel you could plunge right into the sea from it: the summit is 2525m high and the sea is only a few kilometers away!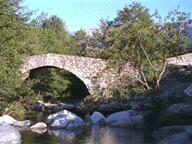 The bridge of Muricciolu, near Albertacce. The end of the trip...
---
I was too lazy to write a full textual description of this 1994 trip. However, in 1996, I have bitten the bullet and fully commented my photos; have a look at Back to Corsica.